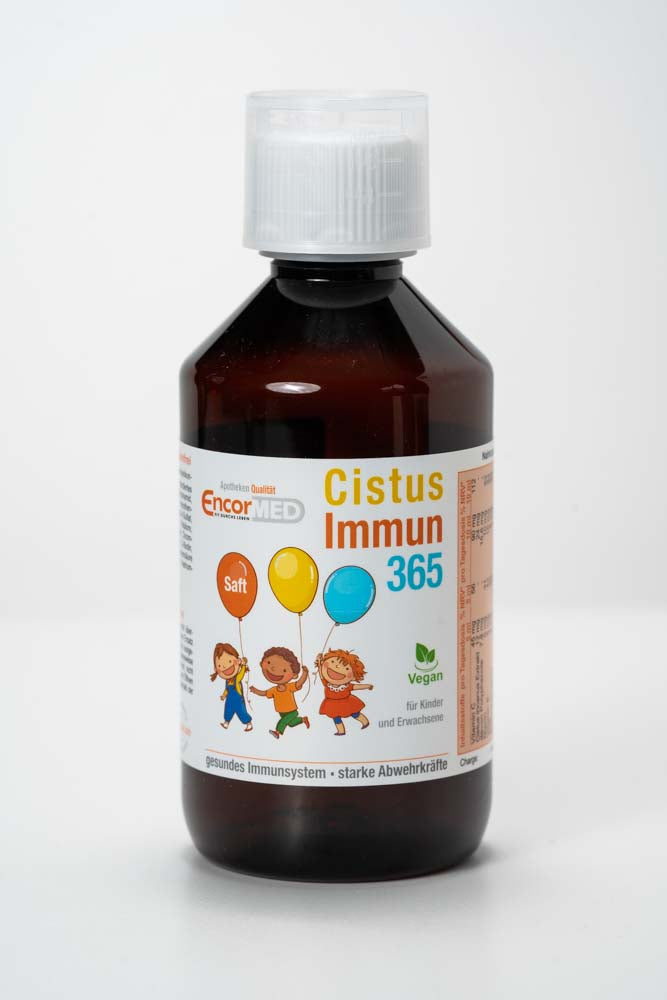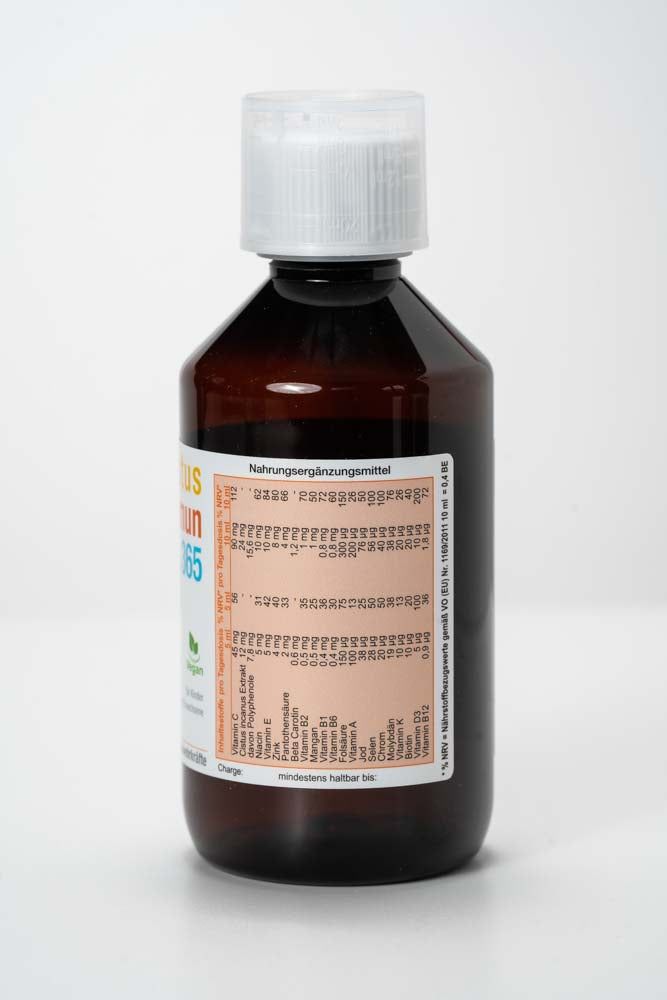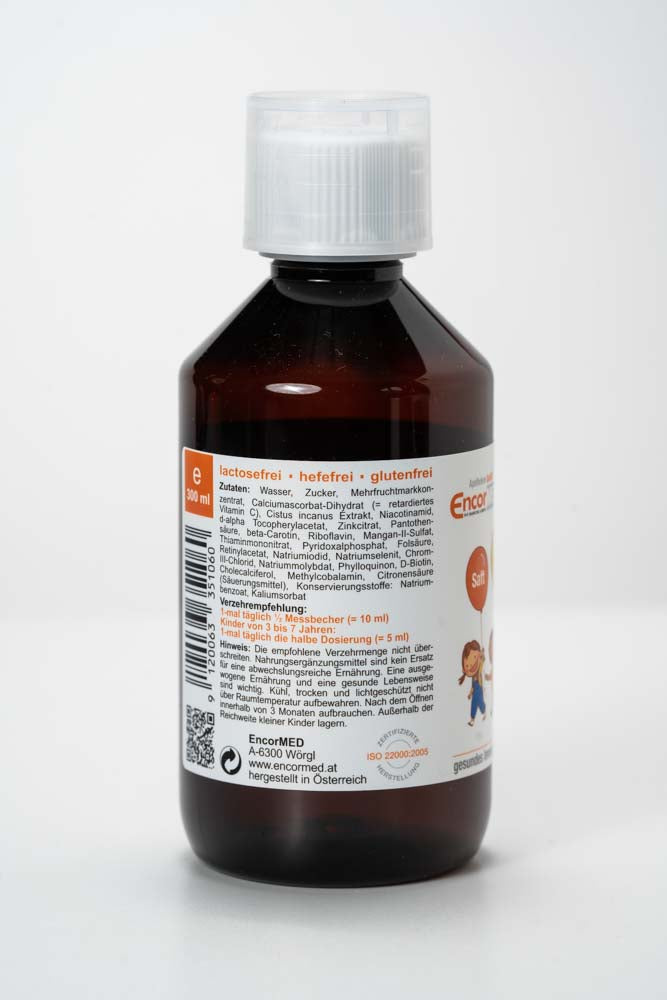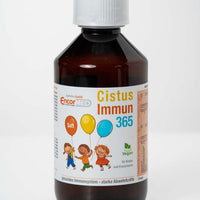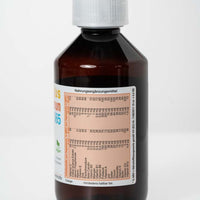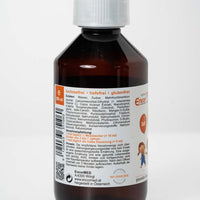 für Kinder und Erwachsene
Cistus Immune 365
€16,90
VAT included
Sale

• Save
Cistus (incanus) also known as cistus, is a well-known medicinal plant from the Mediterranean Sea with an extremely high proportion of polyphenols, which have a strong antiviral, antibacterial and antimicrobial effect.
Vitamin C protects the membranes of the immune cells from free radicals, which attack the cells and tissues of the body.
Vitamin A plays a major part in growth, cell formation and vision in the body. As an antioxidant, it also acts as a radical scavenger.
Vitamin B1, B2, B3, B5, B6 and B12 play an important role in the energy, carbohydrate and fat metabolism and are also extremely important to ensure optimal supply of the nervous system.
Vitamin D3 is an important nutrient and is involved in numerous metabolic processes in the body, strengthens the immune system and plays a central role in the absorption and utilisation of calcium and phosphorus.
Vitamin E protects the body from free radicals.
Vitamin K plays an important role in keeping bones and teeth healthy and contributes to normal blood clotting.
Biotin is also involved in numerous metabolic processes and cell growth.
Chromium (III-valent) is important for the metabolism of fats and carbohydrates, especially for the utilisation of sugar.
Folic acid is involved in various processes such as division, new formation and regeneration of cells as well as blood formation.
Iodine is an elementary component of the thyroid hormones, which control and regulate metabolic processes in the body and stimulate body and organ growth.
Molybdenum contributes to energy production and the breakdown of uric acid. It is also a potent antioxidant and helps store fluoride, which is why it has a positive influence on the prevention of tooth decay.
Selenium is required in the human body as a building block for vital tasks and protects against harmful influences/substances.
Zinc, in addition to iron, is the second most common trace element in the human organism. It is involved in more than 300 metabolic processes and plays an important role in the specific immune system. Zinc is needed for the production of T cells and killer cells that can destroy infected cells.
Functions of Cistus Immune 365
Provides support for viral and bacterial infections
Positive effect on the immune system and mucous membranes
Helps with fungal infections
Helps protect against oxidative stress (metabolic waste products)
5 ml: 45 mg vitamin C 12 mg cistus incanus extract of which 7.8 mg polyphenols 5 mg vitamin B3 5 mg vitamin E 4 mg zinc 2 mg vitamin B5 0.6 mg beta carotene 0.5 mg vitamin B20.5 mg manganese 0.4 mg vitamin B1 0.4 mg vitamin B6 150 µg folic acid 100 µg vitamin A 38 µg iodine 28 µg selenium 20 µg chromium 19 µg molybdenum 10 µg vitamin K 10 µg biotin 5 µg vitamin D3 0.9 µg vitamin B12 10 ml: 90 mg vitamin C 24 mg cistus incanus extract of which 15.6 mg polyphenols 10 mg vitamin B3 10 mg vitamin E 8 mg zinc 4 mg vitamin B5 1.2 mg beta carotene 1 mg vitamin B2 1 mg manganese 0.8 mg vitamin B1 0.8 mg vitamin B6 300 µg folic acid 200 µg vitamin A 76 µg iodine 40 µg chromium 38 µg molybdenum 20 µg vitamin K 20 µg biotin 10 µg vitamin D3 1.8 µg vitamin B12
½ measuring cup (= 10 ml) once per day" Children from 3 to 7 years, half the dosage (= 5 ml)
Food supplements are not a substitute for a varied diet. A balanced diet and healthy lifestyle are important. Do not exceed the recommended daily intake. Keep out of reach of small children. Store in a cool and dry place.
Article Number: 102551
Highest quality
Vitamins, minerals and trace elements of the highest quality at the best price made in Austria.