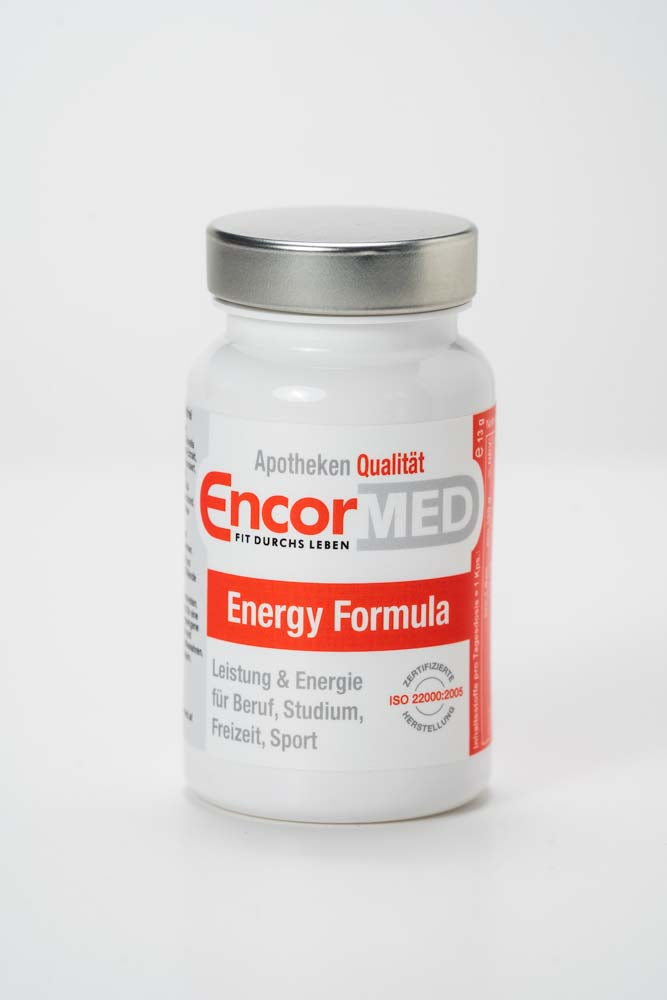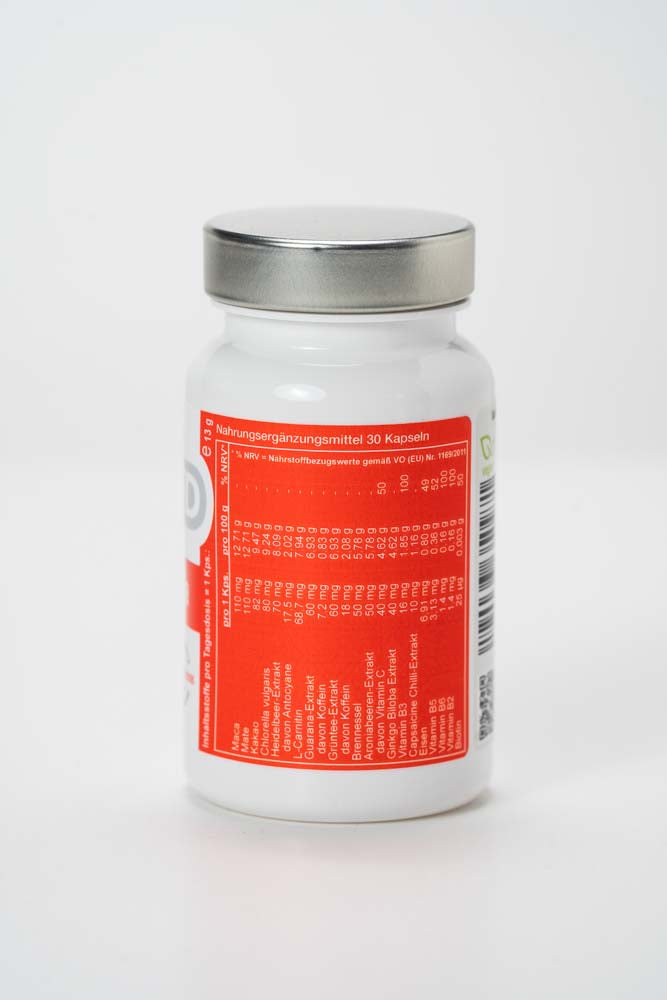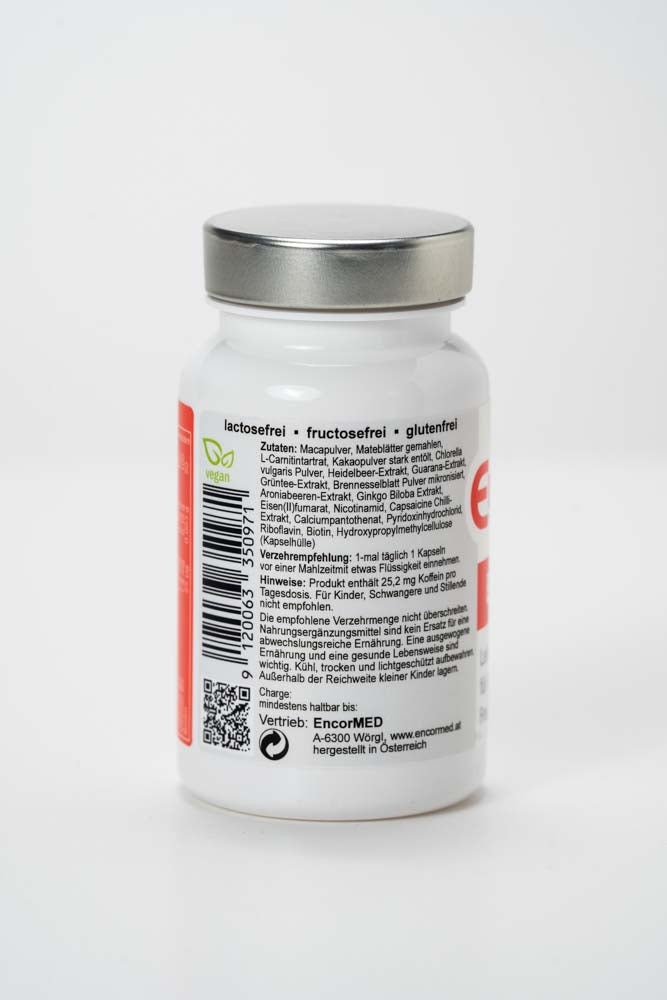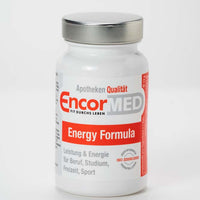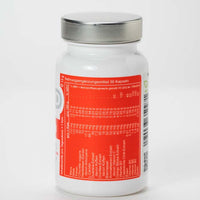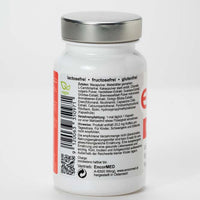 Energy Formula
€16,00
VAT included
Sale

• Save
Maca and mate have a positive influence on physical and mental performance and resilience and have a stimulating effect on muscles, nerves and the metabolism.
L-carnitine serves as a means of transporting fatty acids to the site of fat burning in the cells/mitochondria and is of great importance for the body's energy production.
Cocoa (highly de-oiled) has a positive effect on the nervous, cardiovascular and immune systems and enhances the mood. In addition, cocoa contains the polyphenol epicatechin, which is said to have a positive effect on long-term memory and concentration.
Chlorella (vulgaris) is a freshwater algae that has a high content of minerals, proteins, unsaturated fatty acids, fibre and valuable plant substances. It is known for protecting the liver cells from toxins, balancing the acid-base balance, activating the metabolism, improving cell respiration and protecting against free radicals (oxidative stress).
Blueberries, ginkgo and stinging nettles have a strong antioxidant effect due to their high proportion of secondary plant substances and offer reliable protection against free radicals, which occur increasingly in hectic everyday life and can damage the cells.
Guarana and green tea provide an additional energy boost due to their high caffeine content. Caffeine wakes you up, invigorates and gets your metabolism going.
Aronia berries and the vitamin C they contain protects against oxidative stress and supports the maintenance of normal energy metabolism.
Iron is involved in the formation of the red blood pigment hemoglobin and is of central importance for transporting oxygen and energy metabolism in the body. Iron is required for cell respiration and for energy production in the cell and protects against tiredness, exhaustion/fatigue and maintains cognitive abilities.
Vitamin B2, B3, B5 and B6 play a central role in energy metabolism and are required to maintain normal functioning of the nervous system and mental function.
Chilli gives the body fresh energy and the capsaicin it contains has a positive effect on reducing chronic inflammatory diseases, migraines, high blood pressure and blood lipid levels (cholesterol).
Biotin (also known as vitamin B7 or vitaminH) has an important function in carbohydrate, protein and fat metabolism. A biotin deficiency leads to a drop in performance.
Functions of Energy Formula
Positive effect on physical and mental performance (occupation, studies, leisure time, sport)
Helps protect against oxidative stress (cell protection)
Maca powder, ground mate leaves, L-carnitine tartrate, cocoa powder highly de-oiled, chlorella vulgaris powder, blueberry extract, guarana extract, green tea extract, nettle leaf powder micronised, aronia berry extract, ginkgo biloba extract, ferrous fumarate, nicotinamide, capsaicine chilli extract, calcium pantothenate, pyridoxine hydrochloride, riboflavin, biotin, hydroxypropyl methylcellulose (capsule shell)
110 mg maca
110 mg mate
82 mg cocoa
80 mg chlorella vulgaris
70 mg blueberry extract of which antocyanins 17.5 mg
68.7 mg L-carnitine
60 mg guarana extract of which caffeine 7.2 mg
60 mg green tea extract of which caffeine 18 mg
50 mg nettle
50 mg aronia berry extract of which vitamin C 40 mg
40 mg ginkgo biloba extract
16 mg vitamin B3
10 mg capsaicine chilli extract
6.91 mg iron
3.13 mg vitamin B5
1.4 mg vitamin B6
1.4 mg vitamin B2
25 µg biotin

Hydroxypropylmethylcellulose (plant fiber)
1 x daily 1 capsule take before a meal with some liquid
Product contains 25.2 mg of caffeine per daily dose. Not recommended for children, pregnant and nursing women.
Food supplements are not a substitute for a varied diet. A balanced diet and healthy lifestyle are important. Do not exceed the recommended daily intake. Keep out of reach of small children. Store in a cool and dry place.
Article Number: 102500
Highest quality
Vitamins, minerals and trace elements of the highest quality at the best price made in Austria.